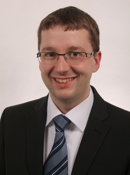 Dr.-Ing. Stefan Krebs
Karlsruher Institut für Technologie (KIT)
Campus Süd
Institut für Regelungs- und Steuerungssysteme
Geb. 11.20 (Engler-Villa)
Kaiserstr. 12
D-76131 Karlsruhe
Lebenslauf
Studium der Mechatronik an der Hochschule Offenburg (Bachelor of Engineering 2011). Anschließend Studium der Elektrotechnik und Informationstechnik mit dem Schwerpunkt Automation an der Hochschule Offenburg (Master of Science 2012). Master-Thesis bei der SEW-EURODRIVE GmbH & Co. KG mit dem Thema: "Entwurf und Implementierung einer Regelung auf Basis eines Störgrößenbeobachters zum Betrieb einer dreiphasigen Netzrückspeisung". Weitere praktische Tätigkeiten im Verlauf des Studiums bei den Unternehmen HIWIN GmbH und SICK AG. Von 2012 bis 2017 wissenschaftlicher Mitarbeiter am IRS. Von 2014 bis 2016 Lehrbeauftragter an der Hochschule Heilbronn. Seit 2018 Gruppenleiter der Forschungsgruppe Alternative Energiesysteme am IRS.
Forschung
Betrachtet man die zu erwartenden Änderungen des Energienetzes (in Deutschland), so zeichnen sich bereits heute einige technische Herausforderungen ab. Durch die Abnahme an großen Erzeugungsanlagen, beispielsweise aufgrund des Atomausstiegs, und der Zunahme an Solar- und Windenergie kommt es zu einer zunehmenden Dezentralisierung der Energieerzeugung. Diese Erzeugung hat ferner die Eigenschaft, dass die Einspeisung vermehrt an verbrauchsfernen Orten stattfindet und einen volatilen Charakter aufweist. Als weitere große Herausforderung ist der Wegfall der rotierenden Massen großer Kraftwerke zu nennen, welche eine frequenzstützende Wirkung mit sich brachten.
Die Energiewende bringt jedoch auch neue Flexibilitäten mit sich. So ist mit einer Zunahme der Kopplung des Elektrizitätssektors mit dem Wärmesektor und dem Gassektor zu rechnen. Ergänzend kann eine Zunahme an Batteriespeichersystemen, sowohl als PV-Speicher als auch im Mobilitätssektor, beobachtet werden.
Die von mir geleitete Forschungsgruppe für Alternative Energiesysteme forscht daher an Methoden, welche diese neuen Flexibilitäten nutzen, um den neuen Herausforderungen zu begegnen. Neben der Betriebsführung der sektorübergreifenden Energienetze stellt dabei der sichere Betrieb von Batteriesystemen ein Schwerpunkt dar.