PAKoS – Personalized, adaptive cooperative systems for automated vehicles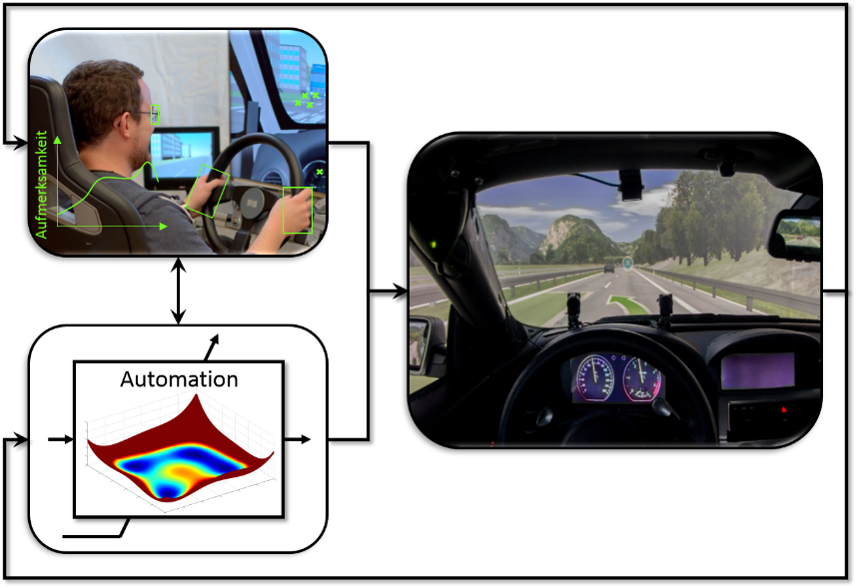 Project Description
Mobility is a decisive factor in everyday life. For this reason, new, advanced systems of human-machine interaction are to be developed, which enhance safety, comfort, and reliability. Automated driving has enormous potentials for increasing traffic safety. As regards the interaction between man and machine, safe transfer of vehicle control from the driver to automation and vice versa represents a particular challenge.
Within the framework of the PAKoS project, a concept for adapting vehicle automation shall be developed. By observing the vehicle interior, the state of the driver is identified and combined with a personalized user profile in order to assess the current performance of the driver. On this basis, automation in the vehicle is personalized and adapted. The user profile can be transferred to various vehicles, while data sovereignty remains with the user. In addition, information and instructions are to be exchanged between the driver and the vehicle as a cooperation partner via different channels in order to optimally support transfer of vehicle control.
Innovative Approach
Development of a safe, holistic, and consistent concept for individualized and personalized cooperation between the driver and the automated vehicle is a prerequisite for future registration of highly automated vehicles.
| | |
| --- | --- |
| Project Duration: | January 2017 - December 2019 |
| Project Partners: | Special Large-scale Research Fund of KIT, Technical University of Munich (TUM), Fraunhofer Institute of Optronics, System Technologies and Image Exploitation (IOSB), Robert Bosch GmbH, Bayerische Motoren Werke (BMW) AG, Spiegel Institut Mannheim GmbH & Co. KG, Videmo Intelligente Videoanalyse GmbH & Co. KG, mVISE AG, Research Center for Information Technology (FZI) of KIT, b.i.g. security |
| Funded by: | BMBF |
| Contact Person: | |
| Project Homepage: | |