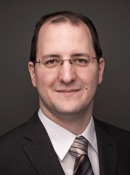 Dr.-Ing. Michael Flad
Karlsruher Institut für Technologie (KIT)
Campus Süd
Institut für Regelungs- und Steuerungssysteme
Geb. 11.20 (Engler-Villa)
Kaiserstr. 12
D-76131 Karlsruhe
Curriculum Vitae
Studies at the Ravensburg Cooperative State University (Dipl.-Ing. (BA) 2008) and member of staff of the Department for Automobile Development of Marquardt GmbH. Then, studies of electrical engineering and information technology at Karlsruhe Institute of Technology (M. Sc. 2011). Master's thesis on robust data fusion for image-based multi-sensor navigation in indoor spaces.
Since 2011, member of the scientific staff of IRS and doctorate on cooperative control concepts based on game theory and their application to driver assistance systems (Dr.-Ing. 2016). Since 2016, Head of the Cooperative Systems Group of IRS.
Research
It is a paradox that interaction with highly automated systems becomes increasingly complex for human beings with an increasing degree of automation. Adaptation of automation systems to human beings is a much bigger challenge than communication between technical systems. The research group therefore focuses on control and decision structures, in which human beings and a technical automation system solve a joint task. Work concentrates on the identification of human behavior, the design of automation systems, and the architecture of these control systems.