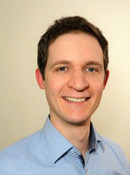 Dr.-Ing. Simon Rothfuß
Karlsruher Institut für Technologie (KIT)
Campus Süd
Institut für Regelungs- und Steuerungssysteme
Geb. 11.20 (Engler-Villa)
Kaiserstr. 12
D-76131 Karlsruhe
Curriculum Vitae
Studies of electrical engineering and information technology at Karlsruhe Institute of Technology (KIT). In 2013, bachelor's thesis at the Institute of Control Systems (IRS). Internship in the Web-of-Things Research Group of Siemens AG in Berkeley CA/USA. Master's thesis at the Institute of Control Systems (IRS) on "Inverse Optimization for Identification of Human Behavior in a Cooperative Scenario" (2016).
From 2016 to 2021 research associate at IRS. Doctorate on human-machine cooperative decision making. Since 2022 leader of the research group on cooperative systems.
Research
Model-based Investigation of Human-Machine Cooperation

My research is concerned with the investigation of a global human-machine cooperation. It is grounded on the modeling of the human-machine interaction. On this basis automation designs are investigated which take into account human perception of the automation behavior. In this context, my research focuses on the innovative resolution of conflicts in emancipated human-machine cooperation.