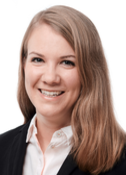 M. Sc. Esther Bischoff
Karlsruher Institut für Technologie (KIT) Campus Süd
Institut für Regelungs- und Steuerungssysteme
Geb. 11.20 (Engler-Villa)
Kaiserstr. 12
D-76131 Karlsruhe
Curriculum Vitae
Studium des Wirtschaftsingenieurwesens an der Dualen Hochschule Baden-Württemberg (DHBW) in Kooperation mit der Alcatel-Lucent Deutschland AG, Bachelorabschluss 2012. Studium der Elektro- und Informationstechnik am Karlsruher Institut für Technologie (KIT). Bachelorarbeit 2015 am Institut für Theoretische Elektrotechnik und Systemoptimierung (ITE) zur Modellierung von Quadrokoptern. Praktische Tätigkeit bei der Robert Bosch GmbH in der Abteilung Driver Assistance zur Blindheitsdetektion von Fahrerassistenzkameras. Masterarbeit am Institut für Regelungs- und Steuerungssysteme (IRS) zum Thema "Entwicklung von Lösungskonzepten für inverse dynamische Spiele".
Seit August 2018 wissenschaftliche Mitarbeiterin am IRS.
Research
Im Vergleich zu einzeln agierenden Robotern ermöglichen kooperierende heterogene Roboterteams durch eine größere Anzahl an Kompetenzen in der Gruppe und die Möglichkeit zur parallelen Aufgabenausführung sowohl eine erhöhte Effizienz und Schnelligkeit als auch deutlich erweiterte Einsatzmöglichkeiten. So können komplexe Aufgaben insbesondere in schwer zugänglichen oder gesundheitsgefährdeten Räumen von autonomen Roboterteams ausgeführt und aus sicherer Distanz von menschlichen Operateuren überwacht werden. Denkbare Anwendungen sind beispielsweise Raumfahrtmissionen oder humane Hilfseinsätze in Krisengebieten, wie die Bergung verschütteter Personen nach Erdbeben, aber auch flexible vollautomatische Produktions- und Logistikketten.
Entscheidende Aspekte für die erfolgreiche Durchführung solcher Missionen sind die Dekomposition des gemeinsamen Missionsziels in konkrete Teilaufgaben, die Festlegung der zeitliche Abfolge der Aufgabenerfüllung und die Zuordnung geeigneter Roboter zu den jeweiligen Aufgaben. Dabei müssen Abhängigkeiten zwischen den Aufgaben berücksichtigt und einzelne Aufgaben von jeweils fähigen Robotern oder Roboterteams erledigt werden.
Ziel dieser Forschung ist es, Methoden zur automatisierten Aufgabenverteilung und Ablaufplanung innerhalb heterogener Roboterteams zu entwickeln, die eine möglichst optimale Erfüllung des gemeinsamen Missionsziels zur Folge haben und den menschlichen Bedienern Möglichkeiten zur Anpassung des resultierenden Plans bieten.
Publications
2020
Multi-Robot Task Allocation and Scheduling Considering Cooperative Tasks and Precedence Constraints
Bischoff, E.; Meyer, F.; Inga, J.; Hohmann, S.
2020. 2020 IEEE International Conference on Systems, Man, and Cybernetics (SMC), Toronto, ON, Canada, October 11–14, 2020., 3949–3956, Institute of Electrical and Electronics Engineers (IEEE).
doi:10.1109/SMC42975.2020.9283215
The ARCHES Space-Analogue Demonstration Mission: Towards Heterogeneous Teams of Autonomous Robots for Collaborative Scientific Sampling in Planetary Exploration
Schuster, M. J.; Muller, M. G.; Brunner, S. G.; Lehner, H.; Lehner, P.; Sakagami, R.; Domel, A.; Meyer, L.; Vodermayer, B.; Giubilato, R.; Vayugundla, M.; Reill, J.; Steidle, F.; Von Bargen, I.; Bussmann, K.; Belder, R.; Lutz, P.; Sturzl, W.; Smisek, M.; Moritz, M.; Stoneman, S.; Prince, A. F.; Rebele, B.; Durner, M.; Staudinger, E.; Zhang, S.; Pohlmann, R.; Bischoff, E.; Braun, C.; Schroder, S.; Dietz, E.; Frohmann, S.; Borner, A.; Hubers, H.-W.; Foing, B.; Triebel, R.; Albu-Schaffer, A. O.; Wedler, A.
2020. IEEE Robotics and automation letters, 5 (4), 5315–5322.
doi:10.1109/LRA.2020.3007468