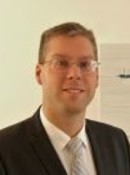 Prof. Dr. rer. nat. habil. Marc Eichhorn
KIT Campus Süd
Fritz-Haber-Weg 1
IRS-Geb. 30.33
76131 Karlsruhe
Lebenslauf
Prof. Dr. rer. nat. habil. Marc Eichhorn ist Inhaber der 2018 eingerichteten Professur für Optronik am Institut für Regelungs- und Steuerungssysteme der Fakultät für Elektrotechnik und Informationstechnik. Gleichzeitig ist er in Personalunion Direktor des Fraunhofer-Instituts für Optronik, Systemtechnik und Bildauswertung (IOSB) in Ettlingen und Leiter des Bereichs Verteidigung des Fraunhofer IOSB
Prof. Eichhorn studierte von 1999 bis 2003 Physik an der Ruprecht-Karls-Universität Heidelberg und promovierte 2005 an der Fakultät für Mathematik und Physik der Albert-Ludwigs-Universität Freiburg i. Br. bei Prof. Joachim Wagner, in Zusammenarbeit mit dem Fraunhofer-Institut für angewandte Festkörperphysik (IAF) in Freiburg und dem deutsch-französischen Forschungsinstitut Saint-Louis (ISL) in Saint-Louis, Frankreich, mit der Abhandlung "Untersuchung eines diodengepumpten Faserverstärkers mit Emission bei 2 µm".
Seit 2008 lehrt er Laserphysik im Rahmen der Karlsuhe School of Optics and Photonics (KSOP) des KIT. 2009 habilitierte er sich für das Fach Experimentalphysik am Department Physik der Fakultät für Mathematik, Informatik und Naturwissenschaften der Universität Hamburg mit der Abhandlung "Quasi-three-level solid-state lasers in the near and mid infrared based on trivalent rare-earth ions" (Quasi-Dreiniveau Festkörperlaser im nahen und mittleren Infrarot basierend auf trivalenten Seltenerdionen) und baute 2010 die Forschungsgruppe "Directed Photonics and Quantum Electronics" (DPE) am ISL auf, deren Leiter er bis 2013 war. Seit 2012 lehrt er auch Lasermesstechnik im Rahmen der KSOP des KIT. Von 2013 bis 2018 war er Leiter der Division III "Laser und elektromagnetische Technologien" des ISL.
Die Schwerpunkte in Forschung, Lehre und Innovation am Lehrstuhl für Optronik umfassen den Themenbereich der photonischen Materialien und Komponenten, der Laserquellen und Lasersysteme sowie der Lasermesstechnik im nahen, mittleren und fernen Infrarot mit den jeweiligen spezifischen Anforderungen in der Optronik.
Lehrstuhl und Fraunhofer IOSB arbeiten inhaltlich eng zusammen. Damit lassen sich Synergieeffekte, die in der eher grundlagenorientierten Herangehensweise am Lehrstuhl und der anwendungsorientierten Ausrichtung des IOSB liegen, optimal erschließen. Daneben fördert eine enge Kooperation die Gewinnung erstklassiger Nachwuchswissenschaftler für das Fraunhofer IOSB.